Impact Print Ireland is a contemporary printers based in Co. Kerry, Ireland. We specialize in luxury hot foil and letterpress printed products.
With craftsmanship at our core and over 20 years experience in the print trade, we aim to exceed your expectations every time.
We love bringing print to life, whether your a designer or someone with no print experience, we can help turn your ideas into a reality. We will work with you from start to finish of a project or you can use us as a trade hot foil and letterpress service. It's entirely up to you.
Get in contact with us anytime if you would like to work with us, it would be our pleasure.
We have researched and selected the finest materials available that work best depending on the craft. From stunning cotton card to luxury Colorplan which is available in 50 colours, to on-trend recycled Kraft along with hundreds of other options.
If you see a product you like but not on the material you want, just have a chat with us!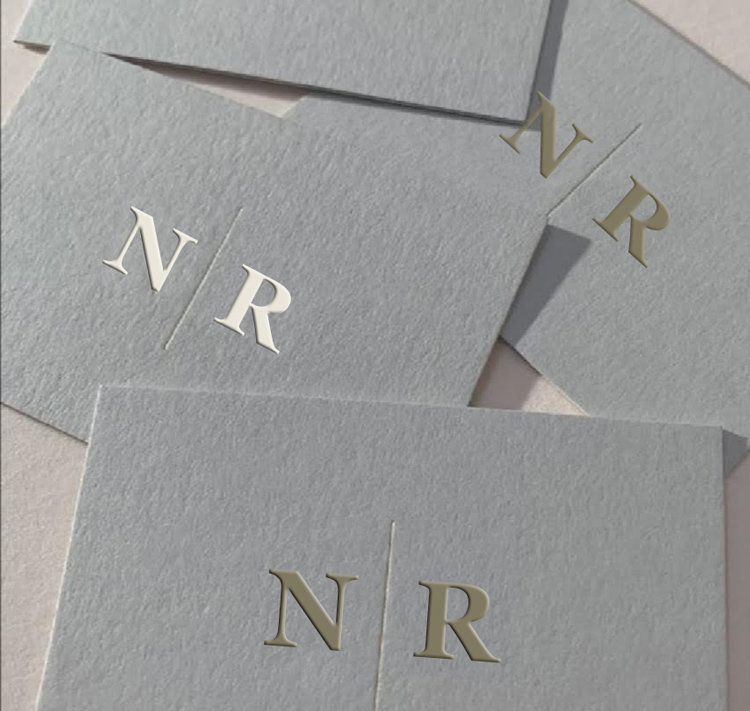 Where stunning paper products can hit the stratosphere! We offer a host of finishing touches such as gilt edging (foil on the edge of your products) to edge paint (ink on the edge) through to duplex and triplex materials (different colour cards sandwiched together).
We can also die-cut custom shapes, add beautiful linings to envelopes, the list goes on!
Craft
Letterpress is the most beautiful way to put ink on paper, stamping the ink into the surface leaving a stunning impression and tactility.
Foiling is a very similar process that uses heat to stamp the foil onto the paper, leaving a very eye-catching metallic shine. Both processes result in the most striking, luxury paper products imaginable!
WHEN SHOULD I ORDER MY INVITATIONS?
We recommend placing your order 6 months prior to your wedding date. The design stage can vary greatly and the printing stage can take up to 4 weeks depending on the print method you choose. 
For any Day-of pieces, we suggest placing your order 3 months before the wedding date. The latest we recommend ordering any Day-of pieces is 8 weeks prior to your wedding. Please email us if you have any concerns regarding turnaround times prior to placing your order.
WHEN SHOULD I SEND MY INVITATIONS?
We recommend sending Save the Dates 8-12 months in advance.
 
We recommend sending your wedding invitations 3 months in advance, or earlier for a destination wedding. If you have international guests consider arranging them to be sent earlier to allow them plenty of time to arrange travel plans.
We recommend an RSVP date at least 1 month before the wedding. 
WHAT IS INCLUDED IN THE DESIGN PROOFING PROCESS?
Included in your order are three rounds of digital proofs. We will design your first proof exactly as specified in your order. You then have two rounds of revisions should you require changes to your design.
We can happily make changes to your ink colour & copy. Fonts, layout and design elements cannot be changed.
Additional revisions to your design or layout adjustments will be invoiced and charged at €30 per proof. 
HOW LONG WILL THE DESIGN STAGE TAKE?
The timeframe for the design stage varies depending on if you have changes to your design and how quickly you respond. Please allow up to 3 business days for second and third-round revisions to your design.
HOW LONG WILL PRINTING TAKE?
Digital printing turnaround time is 10-15 business days plus delivery.
Letterpress and foil printing turnaround time is 15-20 business days plus delivery.
CAN I CHANGE THINGS LIKE FONTS AND LAYOUTS?
As experienced designers, we carefully select each typeface to ensure a balanced, contemporary design which we hope you'll love. We also choose our fonts to ensure they are legible across different printing methods like letterpress and hot foil stamping. For this reason, changes to fonts, layouts and other design elements are not included in your order. 
CAN YOU CREATE SOMETHING CUSTOM FOR MY EVENT?
WILL MY INVITATIONS ARRIVE ASSEMBLED?
Your invitations do not arrive assembled.
CAN I INCREASE THE QUANTITY OF INVITATIONS AFTER I'VE ORDERED?
We strongly recommend ordering at least 10 extra invitations at the time of making your order. This takes into account any last-minute additions to your guest list.
Unfortunately, we can not add to your order after we have completed the print run. This is because of the high set up costs and labour involved with printing. If you think you will need to order more invitations please contact us as soon as possible, as we may not have started the print run yet and can simply add them to your order.
DO YOU DO RUSH ORDERS?
Please contact us and let us know when you require your invitations. If we are able to prioritise your order to meet your required timeframe, a €75 rush order fee will apply. This will be invoiced once we confirm if it is possible.
CAN I SEE A SAMPLE OF A PARTICULAR INVITATION?
As our designs are made to order we may not have a sample of a particular design in stock. However, when ordering your sample pack please let us know if there is a particular design you are interested in.
CAN I USE AN IMPACT PRINT IRELAND DESIGN FOR A NON-WEDDING EVENT?
Absolutely! Our signature minimal, typographic designs are versatile enough to suit any type of event. 
CAN I CANCEL MY ORDER?
As our work is custom made to order, all orders are non-refundable and not eligible for exchange, return or cancellation under any circumstances.
CAN YOU SUPPLY A DIGITAL FILE OF THE DESIGN?
We work with leading suppliers to ensure the highest standard of production. We do not distribute artwork files only. Finished art files are not included in your order and are not available for purchase.
FREE SHIPPING TO IRE
WORLDWIDE SHIPPING AVAILABLE